Certified Lifeguard
From Shehaqua Family Guidebook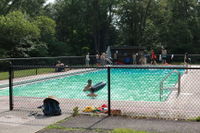 There is a swimming pool at Camp Shehaqua which needs a Red Cross certified lifeguard to supervise.
The lifeguard's assignments include:
Bring current Red Cross lifeguard, CPR certifications, and photo ID to camp. The rangers need to see it.
The key to the pool needs to be returned to the agreed-upon location after the pool is closed for the session.
Open the pool during free time at 3:45 pm.
Close the pool by 5:45 pm, so campers have enough time to go to dinner.
At least one lifeguard must be at the pool at opening time. Since hikes sometimes end late, one lifeguard needs to stay at camp during the hike.
By law, only the gate at the shallow end is allowed to be opened.
At least one life guard needs to have a cell phone at the pool for emergencies. Have the cell phone number of the camp director in the contacts list.
Enforce the camp rule that children 10 years old and younger need to be accompanied by an adult.
If anyone misbehaves and doesn't listen to the lifeguard, report it to the camp director.
Work out other pool rules with lifeguards before camp and enforce them at camp. Some pool rules are discretionary, but they need to be enforced in the same manner by all lifeguards for the duration of the program.
The last lifeguards for the program should bring the rescue tubes to the dining hall.