Early Bird Deadline Approaching Soon
Please don't forget: If you register for Shehaqua Family Camp before May 31 you can take advantage of the Early Bird Discount. Your family can potentially save hundreds of dollars by registering early! Please visit our Prices and Fees page for the details.
Getting Ready for Summer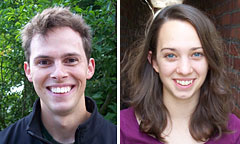 Leighton and Crescentia De Goede
March 6, 2011, 17 people met in the New Yorker hotel to discuss the organization of Shehaqua Family Camp 2011. The final dates were set—July 24–29 for Week 1; July 29–31 for Weekend 1.5; and August 1–6 for Week 2—and the camp directors, advisors, and education directors were confirmed. We are happy and proud to announce that Week 1 will be directed by Leighton De Goede, with Gregg Noll and Rob Sayre acting as advisors, and that Crescentia De Goede will act as education director, with Sally Sayre as advisor. Weekend 1.5 will be directed by Arthur and Eileen Bonini, and Michael Stewart will be education director. Camp director of Week 2 is Kester Wilkening, with Bruce Bonini acting as advisor, and Victor Servito will be education director with advisor Betsy Bonini.
This will be the first year that all camps are being led by the second generation of camp goers with the older generation acting as advisors. Almost all of the new directors first experienced camp when they were young kids and therefore bring a lot of experience to the job.

Michael Stewart
All of them are excited about the upcoming camps. Leighton told us: "With parents, children, and even grandchildren coming together centered on God, Shehaqua truly is a microcosm of the Kingdom of Heaven. I am totally committed to working together with everyone to create one of the best Shehaqua experiences yet." And Crescentia added: "Be prepared to have a great experience during lectures and discussions, because I'm recruiting many wonderful teachers and group leaders who have lots of love and knowledge to share. The education this year is guaranteed to be fabulous."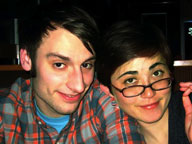 Arthur and Eileen Bonini
Arthur had this to say: "A great majority of the meaningful relationships I have came from Camp Shehaqua, the most important one being with Eileen, my wife. Camp Shehaqua has shaped every aspect of my life in a very positive way. It is the foundation for all of my happiness." And Michael wrote us: "Camp Shehaqua has been a great experience for our family every year. It is a real, relevant way to experience life as an extended family, and meet and connect to new people."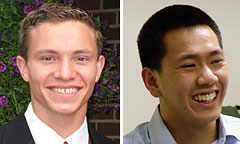 Kester Wilkening, Victor Servito
Kester sent us this: "For me, the saying 'It takes a Village' to raise up a person of character is a perfect description of what Camp Shehaqua is like. People come together for one week out of the year to create a little piece of Heaven on Earth, a reminder that the ideal world is possible."
Video: Food is Important at Family Camp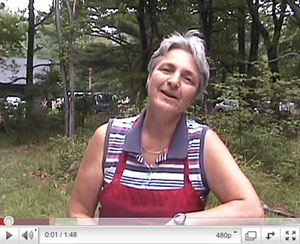 Camp Shehaqua wouldn't be the same without Elke's cooking! She sure knows how to combine delicious with healthy and wholesome. Watch this short video to hear Elke explain her food philosophy. And then check out some of her recipes on our website. You can learn how to make Elke's famous muesli, pecan bars, sun dried tomato dip, several dressings, and much more.
Aunt Elke is looking for people with an interest in healthy food to take on more of a leadership role at Family Camp this year. She would like to train apprentices, sou-chefs, chefs, full-time meal support, people who can head up breakfast, and be in charge of baking. Please read her letter for more details.
Meditation and Qi Gong Videos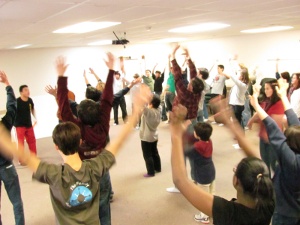 The participants of the Shehaqua Winter Retreat at Camp Innabah will remember the Qi Gong and meditation session led by Rev. Shota Iwasaki. Many people expressed an interest in learning more about these exercises, and Rev. Iwasaki promised to create instructional videos and post them on YouTube. The videos are ready, and you can view them here:
---
• Did you miss the first two issues of Shehaqua Family News? You can read the March issue here and the December issue here.