From the Camp Director, Gregg Noll

Welcome to the first issue of Shehaqua Family News. The purpose of this newsletter is to keep you informed about the programs of the Shehaqua Family: Shehaqua Winter Retreat, Spring Gathering, Hoe Down, and—the biggest and most popular one—Shehaqua Family Camp, which takes place every summer. This newsletter will also give you a tool to inform other families about our programs: Simply forward this e-mail to your friends and encourage them to subscribe, too. (Read more)
Shehaqua Family 2011 Video Contest

As we announced last month, Shehaqua Family Camp is holding an exciting video contest! We are looking for original video clips advertising Shehaqua Family Camp. The winner gets to go to camp for free. There are additional prizes, and every entry is rewarded with a T-shirt. Read the complete details here. We like to add that you don't really need your own camcorder to participate. Here are two websites that allow you to create videos online without a video camera: www.xtranormal.com allows you to type in some text and choose animated characters that will act out your script. At www.animoto.com you can upload photographs and the site's program arranges them in a dynamic way, complete with text and music. We hope that you will give it a try! You have until January 9 to submit your video. (Read more)
Video: Teresa Ferrete's First Shehaqua Experience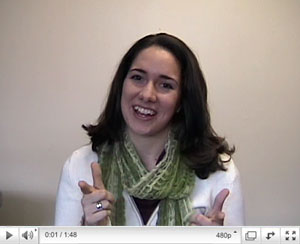 Teresa Ferrete from Maryland visited Shehaqua Family Camp for the first time in 2010. She liked it so much that she stayed for both weeks, and we are happy to announce that in 2011 Teresa will be part of the Education Team. Watch her tell it in her own words.
Come to Camp Innabah for the Winter Retreat!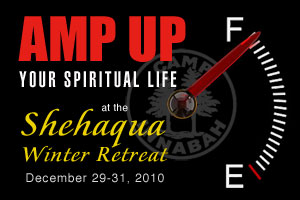 You can still register for the Shehaqua Winter Retreat workshop at Camp Innabah from Wednesday, December 29, to Friday, December 31. The topic is "Amp Up Your Spiritual Life." Then stay on for the New Year's Day celebration on Saturday. Enjoy four days of fun, fellowship, and captivating presentations. View the flyer. If can't make it for four days, then you're invited to come on New Year's day;contact the registrar if this is your plan. Until Sunday, the early bird price is $100 per person, with $20 off for anyone age 12 and under. The prices will rise by 20% on Sunday night (the 19th), so sign up now.
Spread the News about Shehaqua via Facebook

Did you now that we have a Facebook page? Please "like" us on Facebook so that we can easily update you about Shehaqua Family projects between our newsletter. If you are connected to us on Facebook, some of your friends might check us out and connect to us, too. Our Facebook page is also a good place to discuss our programs with other campers.
Tell your friends and community about Shehaqua

We decided to run an advertisement for Shehaqua Family Camp in Unification News (see image above). There are still many families in our communities that don't know (or don't know enough) about the Shehaqua Family programs, and we want to change this. You can do your part by forwarding this email to a family that might not know about our programs yet.