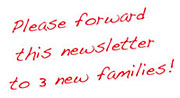 Dear Shehaqua Family Members and friends,
This second issue of Shehaqua Family News comes with a request: Please forward this newsletter to three families who don't know (or don't know much) about the programs of the Shehaqua family. This year we are making a big effort to reach new people, and Shehaqua Family News is part of this. But it can only work as a tool to introduce our camps to new families if you are supporting us in this effort. Thanks for your help.
The 2011 camp dates have been confirmed by the park rangers of Hickory Run State Park; we will have Week 1 July 24-29, the Weekend on July 29-31, and Week 2 August 1-6. Please register soon to ensure your spot and to take advantage of the early bird discount (until May 31).
For all those who would like to experience a taste of Shehaqua before summer, please come to our Spring Gathering. We have an exciting program waiting for you. While you sign up for the Spring Gathering, please take a moment to check out our updated website. Nathaniel Ching invested a lot of work and heart to make it more beautiful and more functional. Thank you, Nathaniel.
This newsletter features several items that will help new families get acquainted with Shehaqua Family Camp: Nils Hoover finished his Shehaqua introduction video just in time for this issue; Sally Sayre updated an article she wrote in 2003 about why new families should consider Family Camp; an updated version of "Behind the Scenes of Shehaqua Family Camp,"; originally written by Rob Sayre in 2002, takes a look at all the work that goes on behind the scenes of Family Camp every year; and last but not least, Concha Marchitelli explains in a video why she brings her sons to Family Camp every year.

Richard Ching
And finally, congratulations to Richard Ching (12), the winner of our Shehaqua video contest. Richard was the only person to send in an entry, and he therefore automatically became the contest winner. Although Richard doesn't own a video camera, he followed our advice to check out Animoto to create videos from still shots, and he came up with a delightful clip. You can watch Richard's video here. The competition is over, but everyone submitting a video will still get a free T-shirt and we will publish a link to the video in our newsletter. Read here what videos we are looking for.
Claude Aubert
Editor, Shehaqua Family News
New Shehaqua Family Camp Introduction Video
Nils Hoover
A few weeks ago, Shehaqua alumnus Nils Hoover put the final touches on his Shehaqua Introduction video to get it ready for this issue of Shehaqua Family News. Nils used footage he shot in the second week of camp in 2009, plus some scenes from a video Claude Aubert shot in 2008. Nils has been a regular camper at both Shehaqua Family Camp and Winter Retreat since 2000 until he became too busy last year with his professional career. Nils recently graduated from a BFA program at Ithaca College for Film and Photography. He just finished work as Assistant Director/Editor at Film on the documentary Beets and Beans: Living and Dying with Hospice which is being shown around the country. Watch the new Shehaqua Family Camp video on YouTube and be sure to forward the link to your friends.
Why Should I Bring My Young Family to Camp?
By Sally Sayre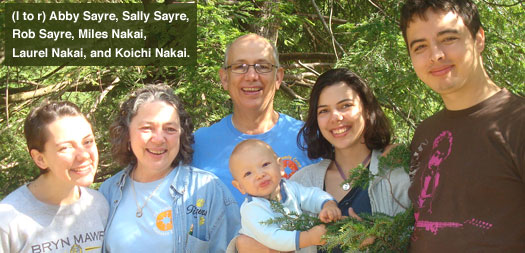 When I was asked to give some reasons for young families to give Camp Shehaqua a try, I thought at first that I was the wrong person to answer this question. After all, my children are grown. I thought I'd better ask my daughter Laurel and her husband to answer the question. Then, I began to think about the reasons I first brought my small children to Camp Sunrise (a camp in upstate New York where our church has been holding educational workshops for many years) when they were about 2 and 4 years old. My experience with that family camp organized by Nora Spurgeon and others of her generation became the inspiration for our own family camp.
Even though my children were small, I was searching for ways to educate them in our faith and to help them grow up wanting to be a part of our special faith family. My husband and I had both converted to our faith and had many significant experiences with Rev. and Mrs. Moon and our brothers and sisters that helped to confirm our resolve and to strengthen our internal commitment--not to mention, of course, the joy of our Marriage. (Rob and I are deeply grateful to have been introduced to each other by Rev. Moon as a potential couple). Read more . . .
Video: For Concha Marchitelli's Sons, Camp Is Mandatory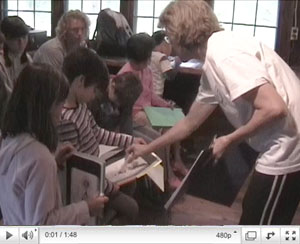 Pietro and Concha Marchitelli's three sons Francis, Gabriel, and Jesun started to go to Shehaqua Family Camp five or six years ago, and since then a week at Family Camp every summer has become mandatory in the Marchitelli family. Hear Concha explain why.
Sign Up For Spring Gathering Now!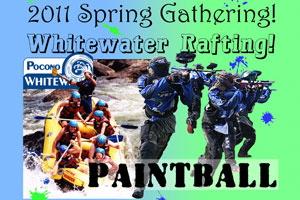 The 2011 Spring Gathering will be on May 21-22. Enjoy a weekend of whitewater rafting and paintball! Whitewater rafting will be on Saturday at Pocono Whitewater and paintball on Sunday at Skirmish. Whitewater rafting and paintball is for age 12 and up. The cost is $100, which includes outdoor activities (rafting and paintball), accommodations at Camp Shehaqua (or Daddy Allen), meals by Aunt Elke Noll and workshop activities in the morning and evening. Anyone is welcome to attend the weekend without participating in the rafting and paintball activities. But register now: we have a limit on the number of people, so reserve your space today. Read More . . .
Behind the Scenes of Shehaqua Family Camp
By Rob Sayre, with updates from several other people
People who attend Shehaqua Family Camp for the first time—or even after a few years of attending—often remark how "amazing" it is that so many people can come together and create such a diverse, rich, and almost addictive experience. They are impressed that we have 400 yards of heavy-duty extension cords, lighting to light five lecture halls and outdoor events, a truck that hauls in over a ton of equipment every year including everything from cooking utensils and the sound system to toilet cleaning brushes and shower curtains. When we rent Camp Shehaqua from the park rangers of Hickory Run State Park only the buildings are provided—everything else is for us to organize and bring there.
Over the last 16 years Family Camp has expanded, and schedules, lists, and processes have been fine-tuned. (We hope to be able share more about the history of Shehaqua Family Camp in a future Shehaqua Family News.) But what really makes the two weeks of Family Camp every summer possible is a large number of people who prepare for it all year long. Here are a few highlights of what went on behind the scenes to make Shehaqua Family Camp 2010 possible.
In September 2009, not long after the end of the 2009 Family Camp, about 20 people met to assess how we did in the summer of 2009. We held another meeting in Bethlehem, PA in February 2010, where we discussed policies and specific roles for 2010.
Nathaniel and Nolan Ching share the roles of webmaster and registrar for the Shehaqua Family. They are responsible for the website, database, email communication and registration. Realizing that the database in place worked for the summer, but not for the winter, fall, and spring events, they started creating a new registration system in May 2008. For the 2009 summer camp, they had finished the new registration system, which is now used for all of our programs. As soon as the 2009 camp was over they started to make further refinements to the staff side and added online medical forms for 2010. They also added news to the website, set up the system for the next event, and sent out mass emails. Read more . . .
---
• Did you miss the first issue of Shehaqua Family News? You can read it on our website.
• We are looking for good photographs of nature around Shehaqua Family Camp to include in a slideshow for a future Shehaqua Family News. Please send your best shots to [email address redacted].