Shehaqua's 25th Anniversary T-Shirt Contest will be closing soon!
Shehaqua Family Camp turns 25 this year! Celebrate by having your artwork printed on our anniversary t-shirt. There is a prize for the winning submission!
Send submissions of both front and back designs to Kyra Moyer at [email address redacted] by February 20th.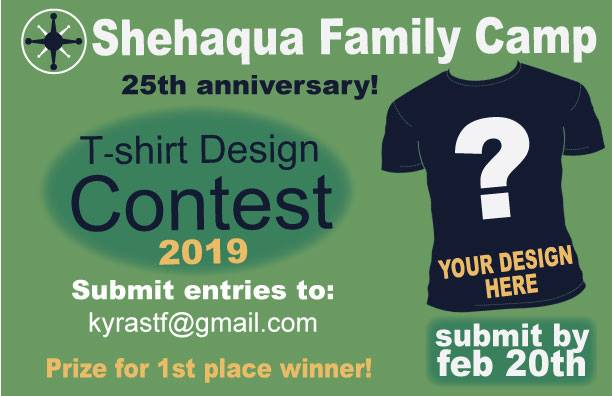 Leadership Opportunities
We have several leadership opportunities to support this year's programs. As was discussed in January's summit, we continue to need empowered and excited people willing to contribute to our Shehaqua community.
Operations Coordinator Volunteer Description
Education director responsibilities
Apply to be education director
Summary of the Summit
Thank you to everyone who attended the 2019 Winter Summit this past January! We had a very productive discussion on a wide range of points regarding the future of camp. This included ideas on how to create more universally applicable or understandable Divine Principle curriculum as well as webinars to help educate aspiring directors, educators and leaders.
We also discussed whether or not we can still hold Spring Gathering and Harvest Festival this year without having circle support to find directors. Overall, we were able to get a good picture of what we can handle this year and came closer to a decision. Having said all that, this discussion made it abundantly clear that it's vital for a new generation of young leadership to step up in order to continue holding these programs. If you would like to hear more about what was discussed at the summit or want to get involved, reach out to [email address redacted] for more details.