How to get to Camp Shehaqua
GPS: The park office is at 41.02428339 N 75.71003025 W. Go uphill (East) from the park office and continue from item 4 below.
Camp Shehaqua, part of Hickory Run State Park, is located in the Pocono Mountains, off I-80 and near I-476. It is approximately 2 hours west of New York City.
From Interstate 80, take Exit 274 and turn onto Rt. 534 south (turn left if you come from the east, turn right if you come from the west).
After 1.7 miles, there will be a stop sign, at which you turn left.
Three and a half miles later, you will pass a large white building on the right, which is the park office.
Drive for another half mile, then take the next road on the left.
Turn a slight left when you come to a fork in the road, and then a sharp left at the next junction.
Immediately after you cross a small bridge, take the red gravel road on your right.
After you pass the park office, there will also be brown park signs with yellow writing. The words 'Group Camps' and 'Camp Shehaqua' will lead you there. Do not follow the signs to the 'Family Camp,' because that leads to a different campground. Note: It is about seven and a half miles from Interstate 80 to Shehaqua. Below is a quick schematic of the Camp Shehaqua area.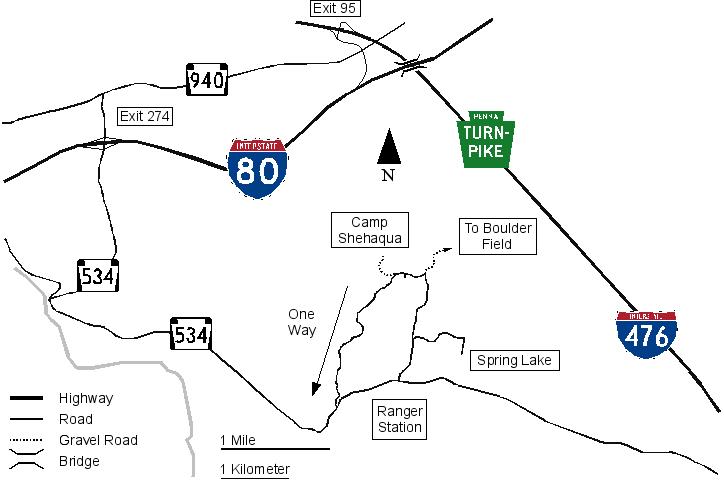 Many GPS units and online mapping tools will lead to the wrong place. Use the GPS coordinates of 41.02428339 N 75.71003025 W to get to the park office.
You can download and print out these directions by clicking Here.
Additionally, if you want a larger map than is in the printable directions, it is here.