The facilities at Camp Shehaqua are owned and operated by the Pennsylvania Department of Conservation and Natural Resources in Hickory Run State Park, nestled in the Pocono Mountains. Directions to Camp Shehaqua. We (Shehaqua Family) rent the facility and host programs at the group camping area for our summer programs and often for spring and fall programs as well (although locations may vary by program). Other groups interested in hosting programs at Camp Shehaqua should contact Pennsylvania DCNR directly - http://dcnr.state.pa.us/stateparks/staythenight/groupcabins/index.htm
Cabins and Campground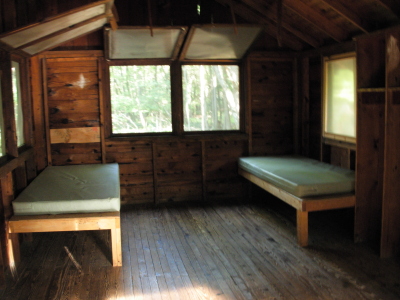 Each family gets their own cabin assigned. Depending on the size of the family, the cabin will have 2 or 4 beds, with space for more on the floor. Eight cabins are grouped around a lodge, and together they form a unit. Camp Shehaqua is made up of 5 units. Click here for a map of the campground.
If the parents agree, children 9th grade and up can sleep in one of the lodges with other kids of their group.
Each unit has restrooms with running water; the only showers are located between Unit 1 and Unit 2.
The cabins have no electricity or water. The doors are barred with wooden bolts. The windows are covered with mosquito screens, and on cool nights plastic covers can be lowered over the screens. Inside the cabin there are 2-4 beds with plastic-covered foam mattresses, and some shelves.
At the center of the camp is the Dining Hall where all the participants meet during meal times. Depending on which cabin and unit your family sleeps in, it's a 5-10 minutes walk from the cabin to the Dining Hall. Other buildings include the Recreation Hall, Office, Crafts Cabin, Infirmary, and Nature Lodge, all located a short walk away from the Dining Hall.
On arrival day you can drive with your car to the unit where your cabin is located to unload your personal belongings. After that, please park the car in the area assigned for it by the camp staff.
Dining Hall
The Dining Hall is the social center of the camp. All participants meet outside the hall before meal times for a song and announcements, and then line up for the food that is served buffet-style. Some meals are eaten by groups, some by family.
At any time of day you will be able to help yourself to a beverage in the Dining Hall. Water, Lemonade, coffee, tea and hot and cold water are available and free. When you register at camp, you will be given souvenir plastic mugs to use during your time at Camp and to take home with you. To reduce the amount of garbage and to save on operating costs, we are not supplying disposable cups during Camp. If you lose your cup you will have to purchase a new one to replace it. Supplies of extra cups are limited.
Each family has a small storage place (the size of a milk crate) reserved for them at the entrance of the Dining Hall. This is where you can keep your plastic mugs, flashlights, rain coats, umbrellas, notebooks, etc.
The Dining Hall is also the place where campers can hang out after the evening activities. Lights out at the Dining Hall is usually around midnight. Some board games are available, but we encourage you to bring your own card games.
Leave your pets at home
This is a park rule: no dogs or other pets are allowed at any time. They are not even allowed for a day visit, even if they are on a leash. Please make other arrangements for them during camp.
Parking and driving during camp
Once you have unloaded your personal belongings at your cabin, please park your car in one of several central locations (we'll tell you about these when you arrive). Plan to walk to and from all the activities, unless you have a medical condition. The camp roads are small, rough and narrow. They cannot handle heavy traffic. CAUTION: There is a 5 mph speed limit on all the roads of camp. For more information about it, please click here.
Fishing and other activities
We have not planned any fishing expeditions, but we are very close the Lehigh River and other good fishing locations. If your family wants to do this on their own during our free times or before or after camp, you are welcome. You will need to contact the Park Office regarding a fishing permit.
Please see the PA DCNR Hickory Run State Park's website for other rules and regulations - http://www.dcnr.state.pa.us/stateparks/findapark/hickoryrun/