Nurture an authentic community of multigenerational families through family fun, exploring True Parents' teachings, and experiencing God's love.
Shehaqua Family Leadership Structure
The Shehaqua Family adopted the sociocracy model of governance in 2013. The aim was to break up the work; to get things done farther in advance; to let participants contribute in areas where their passions and expertise are; and to be inclusive and involve as many stakeholders as possible in the decision-making processes. The sociocracy model is a system of governance that uses consent-based decision making (check out Wikipedia for more about how sociocracy works).  Program planning and some decision making now take place in four circles; one for Shehaqua Family Camp, one for all other programs (Spring Gathering and Harvest Festival), and two covering the year-round operations: Finances, and Media & Communications.
A higher circle, the Operations Team lead by the Operations Director, is coordinating the work of the four circles. The Operations Director is appointed by and reports to the Shehaqua Council. The Council is in charge of creating policies that govern the entire organization. It also approves the budget. Its function can be compared to the role of a board in a corporation.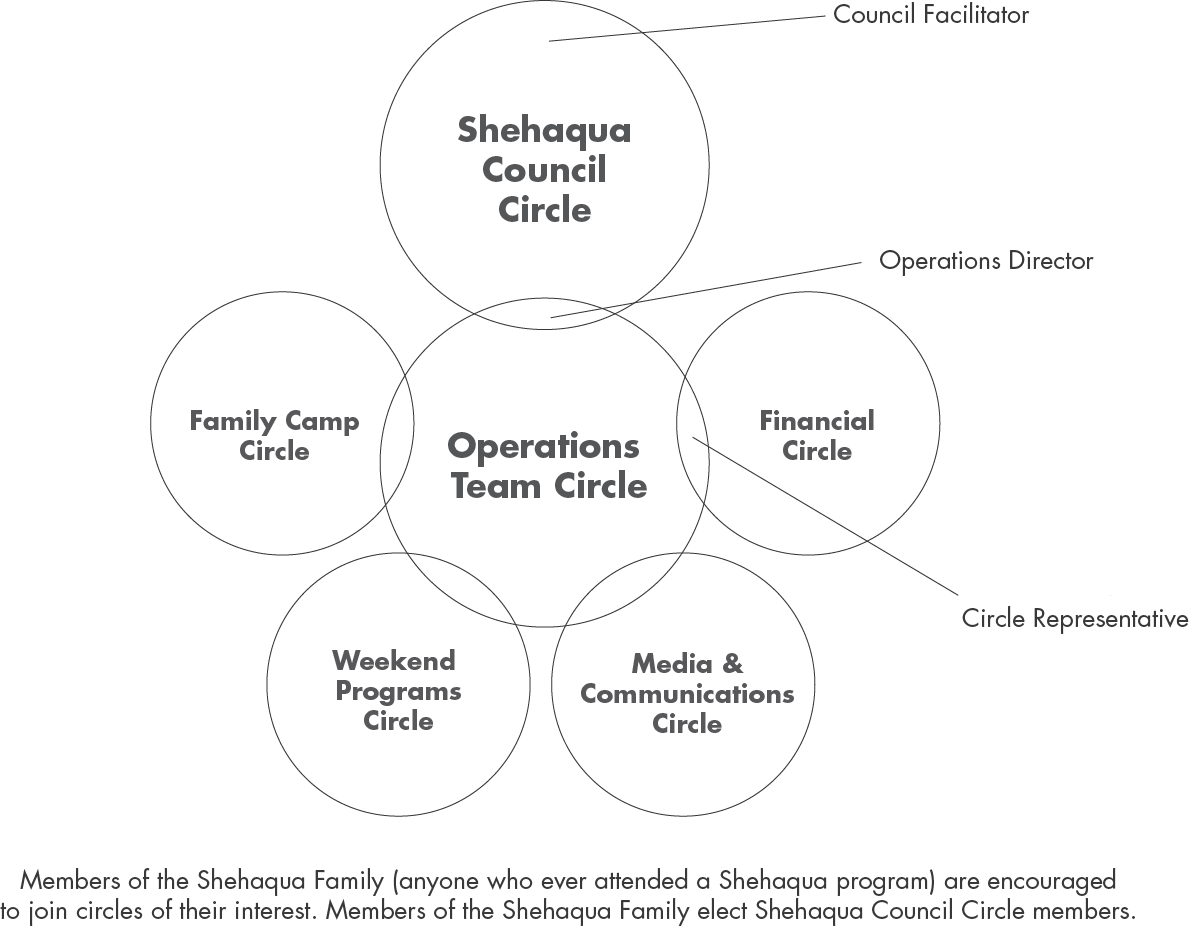 Shehaqua Family Council
The Shehaqua Family Council is a governing body representing the larger Shehaqua Family community. Council members are elected by active members of the Shehaqua Family. Terms last for two years, and they are staggered, so that about half of the Council seats open up for election every year. Council members are allowed to run for re-election when their term is up, and there is no term limit. Not more than one member per generation per household can be a Council member at the same time.
The responsibilities of the Shehaqua Family Council include establishing and reviewing policies; approving the yearly budget; making large financial decisions; reviewing and responding to reports and proposals from the Operations Team and all other circles; electing a Council facilitator (formerly executive director); and managing the yearly election of Council members.
View the current Shehaqua Council members here
Shehaqua Family Circles
We currently have four Shehaqua Family Circles, each one consisting of a small group of people responsible for organizing one aspect of Shehaqua Family programs: The Shehaqua Family Camp Circle, the Programs Circle (Spring Gathering, Harvest Festival, and Winter Retreat), the Finances Circle, and Media & Communications Circle.
The responsibility of the Shehaqua Family Camp Circle and the Programs Circle is to recruit directors for all our programs and support them by establishing guidelines and identifying best practices, by mentoring the program directors, and by making sure that the directors are on top of all preparations for their program. The responsibility of the Finances Circles and the Media & Communications Circle is to provide year-round services such as accounting, marketing, communication (newsletter, website) and registration.