By Nathaniel Ching and Claude Aubert
The Beginnings
The Shehaqua Family got its start in summer of 1995, when a group of Unificationist families (about 40 people) decided to spend a weekend camping in tents at a private campground in eastern Pennsylvania. The parents wanted to provide religious education for their children in an outdoor setting. Each family pitched their tent at their own campsite and brought their own tent, camp stove, and food, but all parents worked together as lecturers and crafts coordinators to organize the education and activities for their kids. A nearby dammed up creek served as a swimming hole, and yarn and sticks were used as simple craft supplies. One highlight from that first camp was a hike on the Appalachian Trail in the pouring rain, ending at a lake with the sun coming out. Everybody had a great time and decided that they should do it again the following year.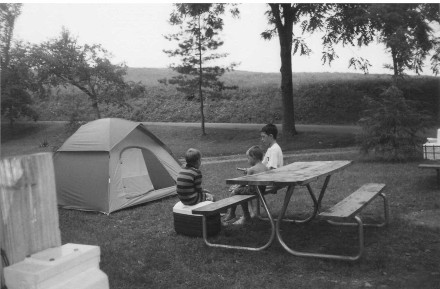 In 1996 and 1997, the camping took place at Robin Hill Camping Resort in Lenhartsville, PA. As in the previous year, each family fed themselves individually, but all families worked together to create the programs for the kids. The activities included Divine Principle and Bible presentations, crafts, and hikes through cornfields. During the ample free time, the children played with a wooden ship on the playground and with a small water slide in the swimming pool. A family activity—forerunner of today's Family Fun Night—was organized for Saturday evening. 1996 was the first year that families from outside Pennsylvania participated. Two came from New Jersey, and one from Maryland.
In 1997 a youth camp was held for kids (middle school and older) who would come without their parents for the first few days. The youth camp went for a total of six days, with family campers holding their own camp for three days. This was the year that the candlelight prayer campfire was born in the youth camp, as was the square dancing. And it was the first year that the Shehaqua Family's own camp shirt—designed by a parent—was printed and sold.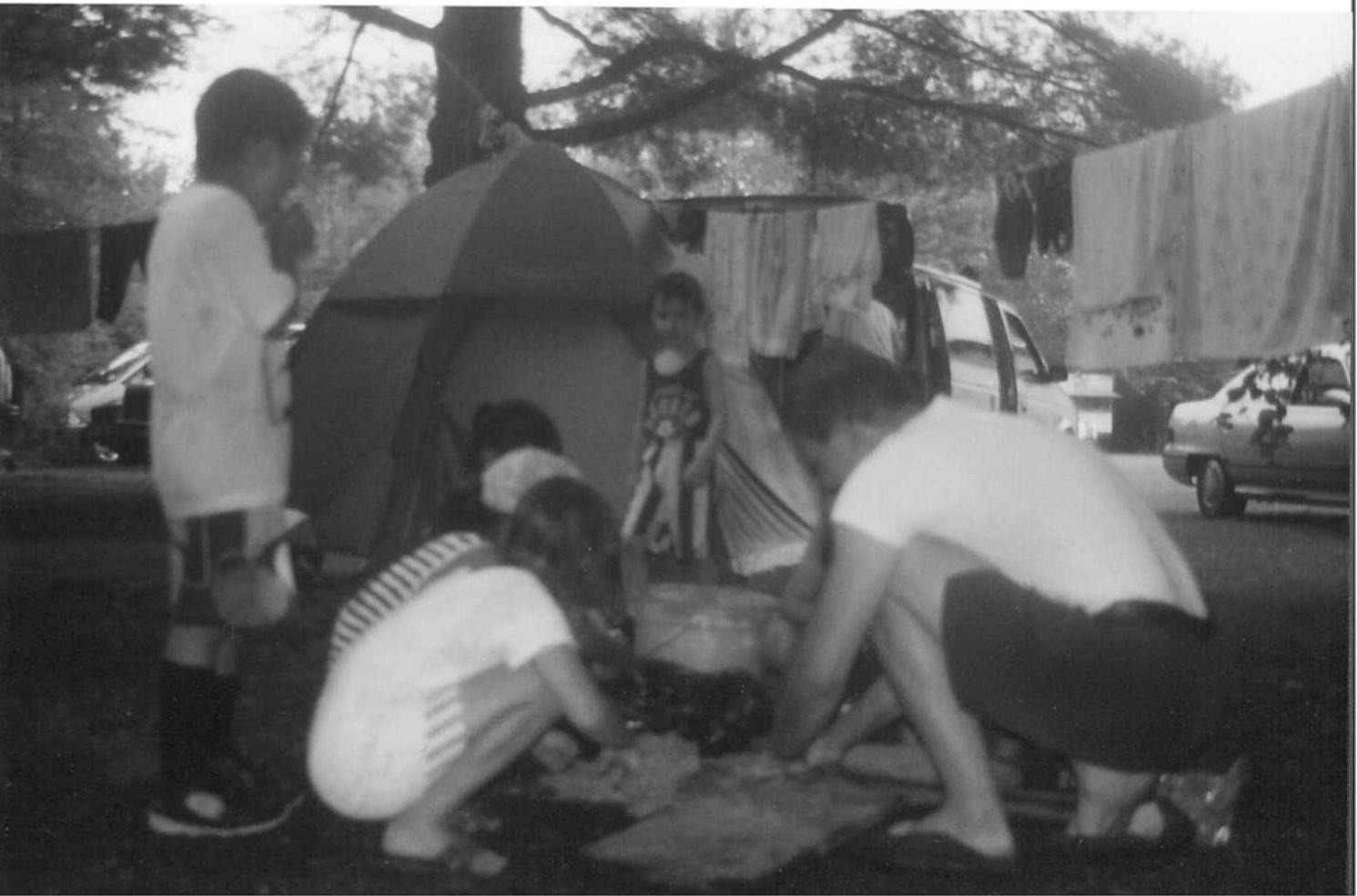 In 1998, the Shehaqua Family had outgrown Robin Hill, and the staff was trying to find a new camp location. They applied for a spot a Camp Shehaqua in Hickory Run State Park. When the park rangers received a cancellation from another group, they offered the camp to the Shehaqua Family. The parents were thrilled to be able to use such a beautiful camp. The common buildings at Shehaqua meant that presentations and crafts making did no longer have to be held outdoors. Having a kitchen meant that there could be common meals, prepared by a kitchen staff, at least for the youth camp. (That year the families still cooked their separate meals near their cabins in Units 4 and 5.) But it also meant that a lot of kitchen equipment—pots, pans, utensils—needed to be bought, and stored after camp.
In 1998 the youth and family camp counted almost 100 campers. Although the staff for the youth camp had doubled since Robin Hill, everyone was still required to multi-task to fill the roles of teachers, group leaders, crafts organizers, and sports facilitators. Family campers again participated in a separate program which lasted a full week this time. One of the highlights that year was a parent-made wood-burning kiln which was kept going day and night to fire the clay masterpieces made by the kids of both the youth camp and the family camp.
How the Family (and Family Camp) Became the Main Focus
As we learned in Part I of this article, Shehaqua Family Camp started in 1995 with a gathering of families. In 1997 and 1998 a youth camp was held in addition to Family Camp. However, by the end of 1998 it was decided that the focus going forward would be on Family Camp only. The consensus was that Family Camp really makes the most lasting impression on the children. If Mom and Dad are singing and praying around the campfire and growing in their faith, it sets a powerful example for their children. It also provides for shared memories and a natural way to pass on the traditions of our movement. So, for the summer of 1999, the whole camp was a Family Camp at Camp Shehaqua (which fortunately was available again).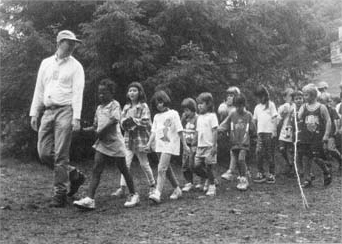 Robert Pickell leads a hike in 2001
That summer a schedule was developed with five workshops for different age groups going on at once. The age groups were the Twinkles (Pre-K, K), Stars (grades 1–2), Moons (grades 3–4), Suns (grades 5–6), and Comets (grades 7–8). The age groups Supernovas (grades 9 and above) and Quasars (age 17 and above) would be added in later years. The schedule of the 1999 camp—slightly modified over the years to accommodate larger groups of campers or changing demographics—is still being used at Family Camp today.
In 2000, Camp Shehaqua was not available and Family Camp had to be held at Camp Laurel Hill State Park in western Pennsylvania. The highlights of the week-long camp included square dancing, with music provided by a hired band, and the creation of an intricate fruit sculpture.
Fortunately Camp Shehaqua at Hickory Run State Park was available again in 2001. Three camps were held in August 2001: two at Shehaqua back to back, and one a few days later at Camp Laurel Hill. In previous years, square dancing at camp involved a professional caller and hired musicians, but in 2001 the camp staff decided to to do it themselves—not too successfully. Because of that, the square dancing night was replaced by the Family Challenge night in 2002 and 2003. People were missing the square dancing, however, and in 2009 it became a regular feature of the Harvest Festival, also held at Camp Shehaqua.
2001 also saw the formation of the Pocono Family Ministries as a legal entity behind the camp. With this legal entity in place, bank accounts and other legal responsibilities could be separated from individuals.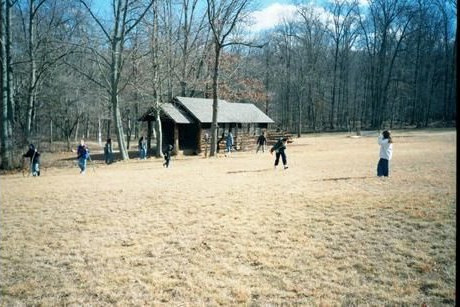 Three Family Camps were held in 2002 as well: one in June at French Creek State Park near Pottstown, PA, and two in August at Camp Shehaqua.
Similarly, in 2003 a Family Camp was held in late June/early July at French Creek, and two more Family Camps took place at Shehaqua. This time the first camp at Shehaqua started at the end of July, a tradition that continues to this day. Several other Shehaqua family programs took place in 2003: a May weekend with group leader training, an informal Blessing preparation workshop, and a DP workshop; and a second informal Blessing preparation workshop in September.
In 2004, two Family Camps were held at Camp Shehaqua. New this year were the service projects, designed to both teach the value of serving others and improve the facilities. During the first week, the basketball court was moved from the hill outside the dining hall to a spot next to the volleyball court, and gravel was put down on the roads and paths in Unit 3. In the second week, the drainage ditch in Unit 5 was dug out and bridges were put over the ditch. This cleared out much of the swamp in Unit 5 and cut down on the mosquito population, much to the delight of everyone, except maybe the bats.
Adding New Programs and Adjusting to Changing Demographics
From 2005 through 2009, three weeks of Shehaqua Family Camp were held each year. It was during those years that camp attendance numbers peaked. In 2005, we registered the highest attendance of all years, with all three weeks filled to capacity. Both 2006 and 2007 also saw total attendance numbers above 400 for Shehaqua Family Camp. Service projects offered to Hickory Run State Park included improving paths with gravel and wood chips, bush trimming, painting buildings, and adding sand to the volleyball court. In 2006, we had a young adult—as opposed to an older parent—direct one week of Family Camp for the first time. In the same year we assembled, painted, and donated 3 picnic tables, and created a sandbox next to the infirmary.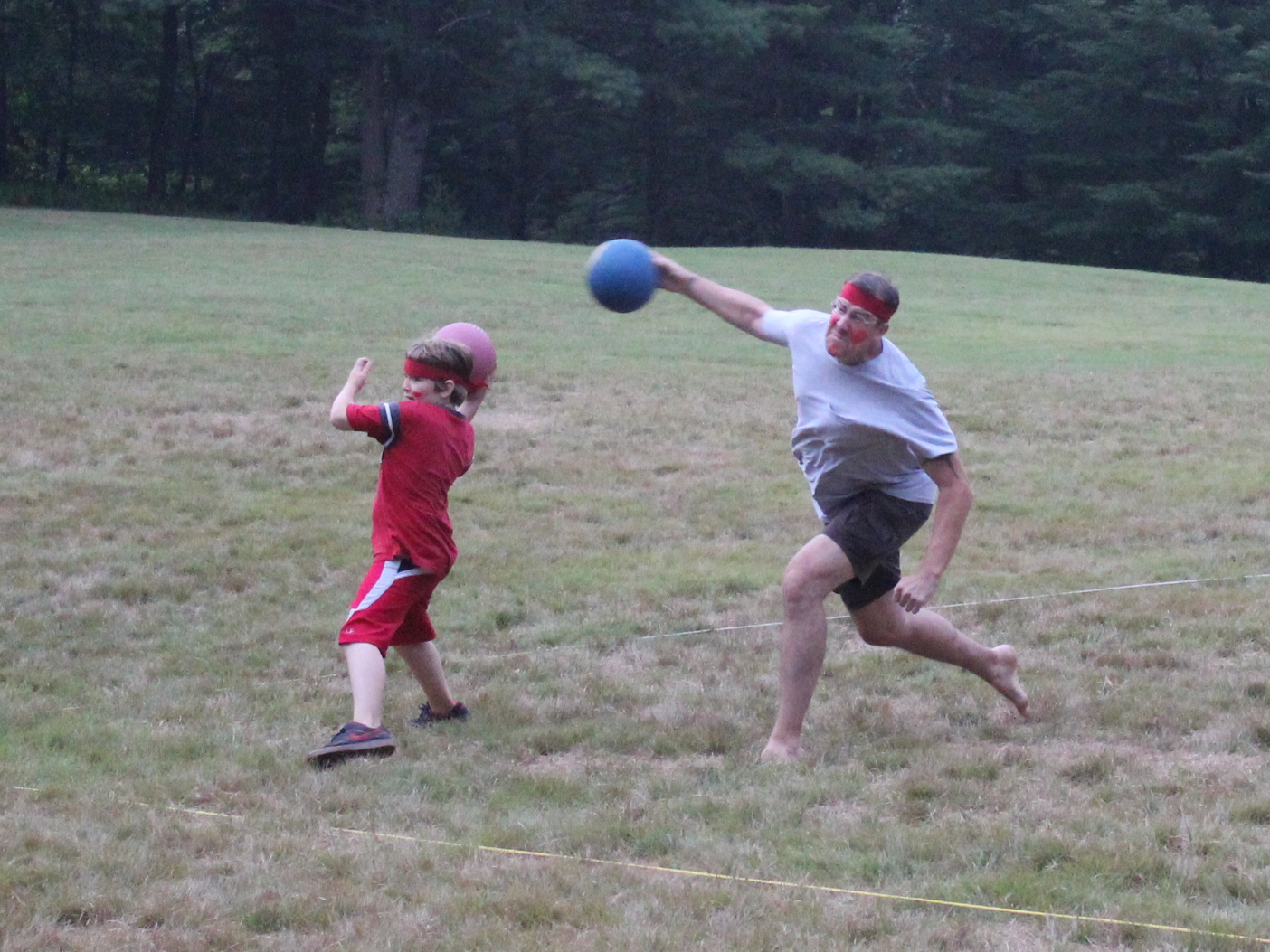 In Week 2 of 2007 we held a dodgeball tournament instead of the Family Challenge. The first tournament was nail-biting, and the tradition of the winning team serving ice cream got its beginning then.
A small weekend program was started in the summer camp in 2009, taking advantage of a previously unused day between two weeks of camp. Over the next years his weekend program would grow into a popular program, offering working parents an opportunity to bring their families to camp without having to take time off from work. We now call this program Weekend 1.5 or Weekend 2.5, depending on which week it follows.
2010 saw both expansion and contraction. A new program—the first Spring Gathering— was held at the Mineral Resorts in northern New Jersey as a leadership seminar. The weekend program in summer almost doubled in size. The Harvest Festival, a small program with a few educational talks and a hoedown, was expanded to include crafts—such as pumpkin carving and candle dipping—and a live band with a professional caller for the hoedown. The Winter Retreat, previously a high school youth camp, was opened up to families for the first time. But Week 3 of Shehaqua Family Camp in summer had to be cancelled due to low registration numbers.
The 2011 Spring Gathering was changed into an adventure weekend with whitewater rafting and a paintball trip. The spring planning meeting at Camp Shehaqua was canceled so that the camp could be used as the base for the Spring Gathering. Since we had to cancel Week 3 in 2010, the rangers of Hickory Run State Park did not grant our request to get Week 3 back for 2011, and therefore we again only had two weeks of Family Camp that summer. Dodgeball had by now replaced the traditional Family Challenge night, but many people missed the latter. Trying to make room for both in our schedule we held a Family Fun Night on the same night as the dodgeball tournament for the first time. As part of our service project, we built the second sandbox near the volleyball court, and we painted some buildings. 2011 was also the year when the Shehaqua Family introduced an online form for people to request financial aid. This made it possible for families to attend camp that otherwise would not have been able to do so.
The 2012 Spring Gathering featured whitewater rafting and paintballing, like in the previous year. Family Camp was back to 3 full weeks and a weekend program. We had, for the first time, a young adult director, who had been attending Shehaqua Family Camp ever since he was a young kid. Family Fun Night was moved to the first night of camp to allow people to get to know new families early on, and it became a permanent fixture in the schedule. Five more picnic tables were built by our campers and donated to Hickory Run State Park. That year we set an ambitious service project goal for the next few years: Put a fresh layer of paint on all buildings at Camp Shehaqua. A group of Shehaqua alumni were inspired to start a new program (independent of the Shehaqua Family): Vision Quest, a program consisting of a road trip and leadership training for high school students.
The 2013 Shehaqua Spring Gathering consisted of a hike to the scenic overlook in Glen Onoko and a 3-way capture-the-flag game on the sports field. The Spring Gathering participants also rebuilt the volleyball court to get it ready for the summer. There were 3 weeks of Family Camp in summer. Trying something new, we invited families with young kids to participate in a Young Family Week with a special focus on younger kids. But that week ended up having a shortage of older kids who could serve as group leaders, as well as parents who were free to fill all essential volunteer positions. After that, we decided that Family Camp works best when all age groups are mixed.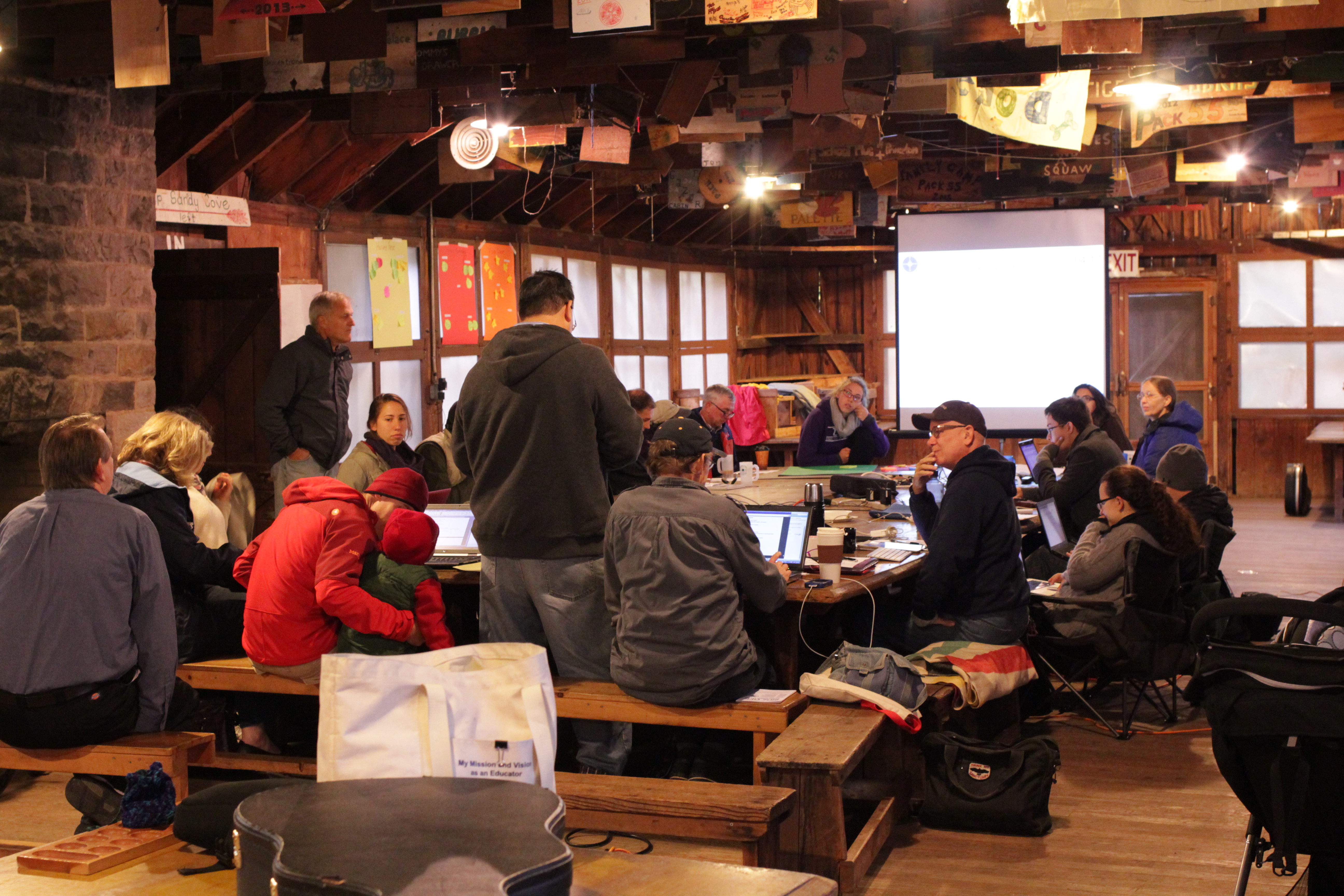 The Fall 2013 planning meeting, dubbed "The Shehaqua Summit," turned into a larger meeting at Camp Daddy Allen, located right across from Camp Shehaqua. The gathering lead to a decision to adopt the sociocracy model of governance (also known as dynamic governance) and replace the position of executive director with a council, headed by a council facilitator., The goal was to spread work and responsibilities and involve new families in the Shehaqua Family organization. Ten new circles were formed; five to take care of each Shehaqua program, and five for the year-round operations. You can read more about Shehaqua Family's leadership structure here.
2014 was the twentieth year of Shehaqua camping. The Spring Gathering once again featured whitewater rafting and paintballing. In summer, the 20th anniversary was celebrated with the production of a special hoodie, the reprinting of the first Shehaqua T-shirt, and the creation of another monumental fruit sculpture in both Weeks 1 and 2. All buildings of Unit 1 were painted as part of the service project that summer. At the Shehaqua Summit in fall, the sociocracy model was evaluated and adjusted. A new circle—the Operations Team—was introduced to improve communication between the existing circles. The Shehaqua Council appointed an operations director to facilitate this circle.
The participants of the 2015 Spring Gathering were treated to new activities: an obstacle course, and a concert with a hired band in the meadow.
And this brings us to the present. Will Shehaqua still be around in 20 years? We sure hope so. We believe that the Shehaqua programs have something really unique and precious to offer to families and young adults. Over the last few years we have experienced a bit of a drop in attendance, but this can be explained by the changing demographics. The children of the families who were organizing and attending Shehaqua programs in the early days have grown up, and many of those families are no longer involved. These children are now young adults and parents themselves, but many are still too young to have kids old enough to come to Family Camp. But we believe that in a few years this will change again, and that they will return with their own kids to give them the same Family Camp experience that enriched their own childhood and youth so much.