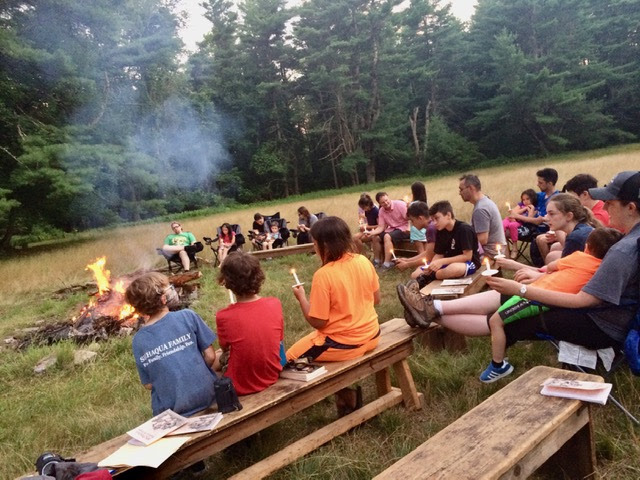 Toasting s'mores at the campfire, swimming at Sand Spring Lake, hiking on the Shades of Death Trail, playing Capture the Flag, hosting Family Fun Night and Candlelight Prayer in the meadow—these were experiences shared at Shehaqua in July 2020. Through cooperation under a shared vision, Dan Hess, Chris Bush, and Sally Sayre scouted out campsites, contacted the rangers at Hickory Run, and created education packets for families.
Not being able to accept a summer without camp, this dedicated trio managed this Family Camping Adventure with the structure of Shehaqua Family Camp. Dan and Chris served as director and General Affairs director respectively, with Chris also assuming the mantle of crew; Sally took up the familiar role of teacher and education director. The persistence exhibited by this team seemed to be rewarded from above by beautiful weather throughout the gathering.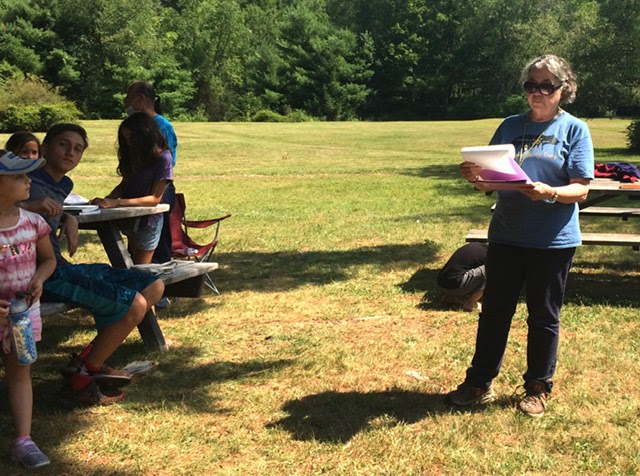 As a type of bookend to the original family camp of 1995, the 2020 Family Camping Adventure at Hickory Run included approximately 10 families and 40 people overall, with several multi-generational families in attendance. In 1995, there were exactly 10 families, totaling 40 people in attendance.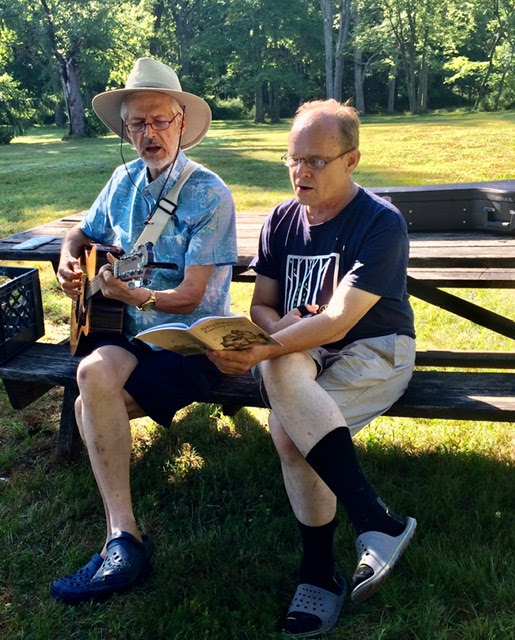 Sally Sayre writes in regard to the experience:
"The rangers at Hickory Run wanted to help us and did all they could to accommodate our needs. They weren't able to open the group camps, turn on the plumbing, or mow the grass at Shehaqua, but they allowed us access to the meadow and to our storage onsite where we could get mattresses, making tent camping so much more comfortable than it might have otherwise been. Chris weed-whacked the meadow to create a path down to the campfire and a ring around the fire where we set up our benches and chairs. We were also allowed to access the power from the camp office, so (we) had lights and amplified sound at our campfires. It felt very familiar and was such a treat after so many months of isolation."
—Sally Sayre
A few quotes from the post-camp survey:
"It was a good chance to reboot."
"It's always good to sing around the campfire and it was great to have Otmar and Chris for the singing. I would definitely come again."
"I enjoyed a more quiet, family-based tent setting as opposed to a community-based camp setting. Hoping to come for more camps."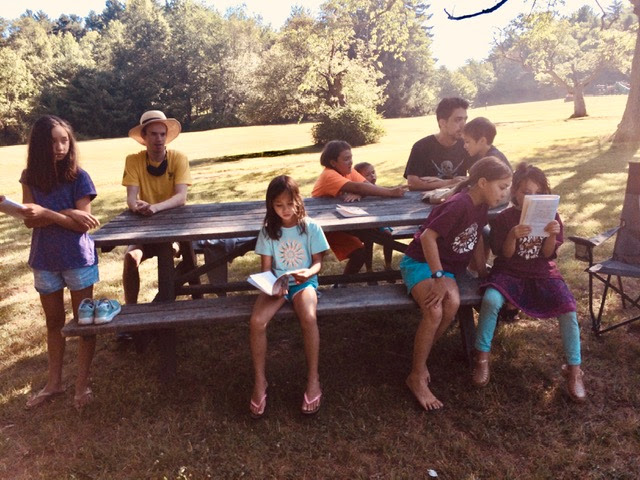 In this time where connecting to another person is seen in a controversial light, it can be a relief to know there are spaces where those who seek communion and conversation can do so safely. Two weeks after everyone returned from camp and self-quarantined, we checked in with everyone who attended and are happy and grateful to hear back that all of our attendees were COVID-free!
Thank you to Dan Hess, Chris Bush, Sally Sayre and the many others who contributed to this event and created an enjoyable memory for all who attended!
Looking at Next Year
This year's experiment with tent camping showed us that we do have some options to get together safely while Camp Shehaqua is closed. As we continue monitoring the situation with COVID-19, we will want to hear from all of you as well on any ideas, thoughts or feedback you have on what makes sense going into next year. We will keep you updated here as we learn more about the possibilities in 2021.