Click the Read More link to see the second issue of the Shehaqua Family Newsletter.

SHEHAQUA FAMILY NEWS
VOL. 1, No. 2, MARCH 2011
Camp Dates: July 24-29, July 29-31, and August 1-6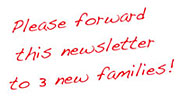 Dear Shehaqua Family Members and friends,
This second issue of Shehaqua Family News comes with a request: Please forward this newsletter to three families who don't know (or don't know much) about the programs of the Shehaqua family. This year we are making a big effort to reach new people, and Shehaqua Family News is part of this. But it can only work as a tool to introduce our camps to new families if you are supporting us in this effort. Thanks for your help.
The 2011 camp dates have been confirmed by the park rangers of Hickory Run State Park; we will have Week 1 July 24-29, the Weekend on July 29-31, and Week 2 August 1-6. Please register soon to ensure your spot and to take advantage of the early bird discount (until May 31).
For all those who would like to experience a taste of Shehaqua before summer, please come to our Spring Gathering. We have an exciting program waiting for you. While you sign up for the Spring Gathering, please take a moment to check out our updated website. Nathaniel Ching invested a lot of work and heart to make it more beautiful and more functional. Thank you, Nathaniel.
This newsletter features several items that will help new families get acquainted with Shehaqua Family Camp: Nils Hoover finished his Shehaqua introduction video just in time for this issue; Sally Sayre updated an article she wrote in 2003 about why new families should consider Family Camp; an updated version of "Behind the Scenes of Shehaqua Family Camp,"; originally written by Rob Sayre in 2002, takes a look at all the work that goes on behind the scenes of Family Camp every year; and last but not least, Concha Marchitelli explains in a video why she brings her sons to Family Camp every year.

Richard Ching
And finally, congratulations to Richard Ching (12), the winner of our Shehaqua video contest. Richard was the only person to send in an entry, and he therefore automatically became the contest winner. Although Richard doesn't own a video camera, he followed our advice to check out Animoto to create videos from still shots, and he came up with a delightful clip. You can watch Richard's video here. The competition is over, but everyone submitting a video will still get a free T-shirt and we will publish a link to the video in our newsletter. Read here what videos we are looking for.
Claude Aubert
Editor, Shehaqua Family News
New Shehaqua Family Camp Introduction Video

Nils Hoover
A few weeks ago, Shehaqua alumnus Nils Hoover put the final touches on his Shehaqua Introduction video to get it ready for this issue of Shehaqua Family News. Nils used footage he shot in the second week of camp in 2009, plus some scenes from a video Claude Aubert shot in 2008. Nils has been a regular camper at both Shehaqua Family Camp and Winter Retreat since 2000 until he became too busy last year with his professional career. Nils recently graduated from a BFA program at Ithaca College for Film and Photography. He just finished work as Assistant Director/Editor at Film on the documentary Beets and Beans: Living and Dying with Hospice which is being shown around the country. Watch the new Shehaqua Family Camp video on YouTube and be sure to forward the link to your friends.
Why Should I Bring My Young Family to Camp?
By Sally Sayre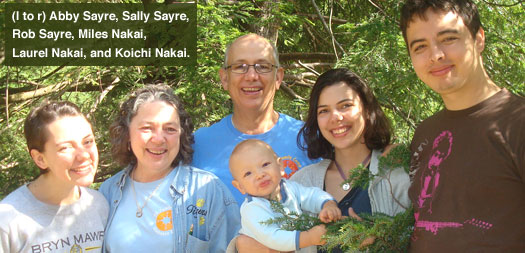 When I was asked to give some reasons for young families to give Camp Shehaqua a try, I thought at first that I was the wrong person to answer this question. After all, my children are grown. I thought I'd better ask my daughter Laurel and her husband to answer the question. Then, I began to think about the reasons I first brought my small children to Camp Sunrise (a camp in upstate New York where our church has been holding educational workshops for many years) when they were about 2 and 4 years old. My experience with that family camp organized by Nora Spurgeon and others of her generation became the inspiration for our own family camp.
Even though my children were small, I was searching for ways to educate them in our faith and to help them grow up wanting to be a part of our special faith family. My husband and I had both converted to our faith and had many significant experiences with Rev. and Mrs. Moon and our brothers and sisters that helped to confirm our resolve and to strengthen our internal commitment—not to mention, of course, the joy of our Marriage. (Rob and I are deeply grateful to have been introduced to each other by Rev. Moon as a potential couple).
We had been to many workshops and felt the power of the Rev. Moon's teaching as well as the principled love of teachers and brothers and sisters. I knew our children could not have quite the same experience and would likely meet challenges at an immature age and perhaps struggle to connect to our movement. Our experiences at Camp Sunrise were really precious and Laurel continued to attend Camp Sunrise youth camps for many years.
I remember realizing that it was important for my young daughters to identify strongly with our movement and to form friendships of their own that could support them in times of difficulty when parents can't really help or aren't consulted. At camp as a family, we were learning the tenets of our faith, having experiences with nature, each other and with our Heavenly Parents as well as with many precious brothers and sisters. My daughters were meeting their extended family—spiritual cousins and aunts and uncles who have continued to care for them and "be there" for them. My children were able to look up to teenagers who served as excellent role models. They were eager for the guidance and friendship of elder sisters and brothers. Laurel was the oldest child of our church in Pennsylvania, so this was an important opportunity for her. We sought to continue this experience for our children even after Camp Sunrise seemed to gear more to youth camps.
As young parents we were able to share experiences of parenting and receive insights about how to navigate this fallen world with our precious children in tow. The goals of our camp which have been published before, state almost all of the reasons that families should make it a joyful habit to attend Shehaqua Family Camp every year:
Your children can learn Divine Principle (Unification Theology) at a level appropriate for their age with fellow campers that can become lifelong friends.
Your children can have the opportunity to create their own unique relationship with Heavenly Parents, facilitated by the natural beauty around them and the presence of their loving parents and other families in joyful give and take.
Your children can experience a taste of the Kingdom of Heaven—because that is truly what is created when Blessed Families all work together for the purpose of joy.
I said the above three reasons were almost all the reasons you should give Shehaqua Family Camp a try. Another reason you may want to think about attending our camp, is that you never know when you might meet a family with a young lady or gentleman who would be an ideal spouse for your son or daughter. My own daughter met her husband at Camp Sunrise and there are several Shehaqua couples either already married or presently engaged.
My family is absolutely addicted by now to attending camp and Rob and I are enjoying coming as grandparents with our children and grandson. It gets a little harder to hike down to the swimming pool, but the spirit of camp is still the same—possibly even deeper and richer than it's ever been.
Video: For Concha Marchitelli's Sons, Camp Is Mandatory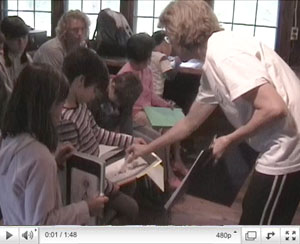 Pietro and Concha Marchitelli's three sons Francis, Gabriel, and Jesun started to go to Shehaqua Family Camp five or six years ago, and since then a week at Family Camp every summer has become mandatory in the Marchitelli family. Hear Concha explain why.
Sign Up For Spring Gathering Now!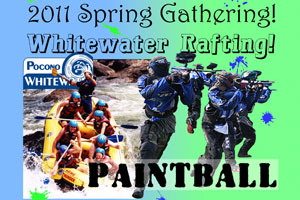 The 2011 Spring Gathering will be on May 21-22. Enjoy a weekend of whitewater rafting and paintball! Whitewater rafting will be on Saturday at Pocono Whitewater and paintball on Sunday at Skirmish. Whitewater rafting and paintball is for age 12 and up. The cost is $100, which includes outdoor activities (rafting and paintball), accommodations at Camp Shehaqua (or Daddy Allen), meals by Aunt Elke Noll and workshop activities in the morning and evening. But register now: we have a limit on the number of people, so reserve your space today. Read More . . .
Behind the Scenes of Shehaqua Family Camp
By Rob Sayre, with updates from several other people
People who attend Shehaqua Family Camp for the first time—or even after a few years of attending—often remark how "amazing" it is that so many people can come together and create such a diverse, rich, and almost addictive experience. They are impressed that we have 400 yards of heavy-duty extension cords, lamps to light five lecture halls and outdoor events, a truck that hauls in over a ton of equipment every year including everything from cooking utensils and the sound system to toilet cleaning brushes and shower curtains. When we rent Camp Shehaqua from the park rangers of Hickory Run State Park only the buildings are provided—everything else is for us to organize and bring there.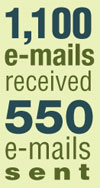 Over the last 16 years Family Camp has expanded, and schedules, lists, and processes have been fine-tuned. (We hope to be able share more about the history of Shehaqua Family Camp in a future Shehaqua Family News.)  But what really makes the two weeks of Family Camp every summer possible is a large number of people who prepare for it all year long. Here are a few highlights of what went on behind the scenes to make Shehaqua Family Camp 2010 possible.
In September 2009, not long after the end of the 2009 Family Camp, about 20 people met to assess how we did in the summer of 2009. We held another meeting in Bethlehem, PA in February 2010, where we discussed policies and specific roles for 2010.
Nathaniel and Nolan Ching share the roles of webmaster and registrar for the Shehaqua Family. They are responsible for the website, database, email communication and registration. Realizing that the database in place worked for the summer, but not for the winter, fall, and spring events, they started creating a new registration system in May 2008. For the 2009 summer camp, they had finished the new registration system, which is now used for all of our programs. As soon as the 2009 camp was over they started to make further refinements to the staff side and added online medical forms for 2010. They also added news to the website, set up the system for the next event, and sent out mass emails.
Nathaniel and Nolan assist people with the registration - sometimes over the phone - and check every registration for errors. May 31 is a busy day - the last day of the early bird discount is when the most people are registering and need help. Between the 2009 and 2010 Family Camps they received over 1,100 camp email messages and sent over 550 emails. In addition to registering people, they also prepared the schedule, the group clean-up schedule, and printed reflections and materials for the teachers. The registration packets were printed just before camp to make sure they were up-to-date. Geoffrey Ching helped prepare the registration packets and assigned the cabins. After Camp 2009 Nathaniel and Nolan put in at least 450 hours of work before the first day of Camp 2010.
Claude Aubert started to update the camp songbook right after the 2009 camp ended. He spent many hours eliminating typos and correcting chords for the songs, as well as slimming down the songbook while at the same time adding some new songs. In May he launched a songbook cover competition. Five people submitted their artwork, and Kyungsun Orr was the winner. His beautiful artwork graced the cover of the 2010 songbook that will also be used in 2011 and 2012.
Rod Cameron again volunteered to make the promotional postcard. He changed and updated the post card he created in 2009.
Haydee Ching, who since February 2010 is the Shehaqua Family bookkeeper, also volunteered behind the scenes. Besides keeping track of the finances she was keeping an eye on special sales from August 2009 on and bought supplies for the registration, the lectures, and the camp store. Haydee also became the hospitality coordinator and communicated before camp with people who registered for the first time.
There are other practical issues that needed to be taken care of before camp starts. Sally Sayre ordered the traditional t-shirts and mugs which can't be ordered too early—because the number needed is still unclear—but also can't be ordered too late, because they need to be ready before camp starts. Sally Sayre also picked up the t-shirts and mugs from the printing company. Young Sun Compton drew and printed the second t-shirt design.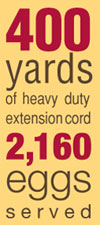 Robert Pickell organized the moving in and out of camp. He rented a truck to transport equipment from a storage place (rented year-round) before camp started, and again to return everything after camp was over. He led a team of dedicated campers who came a day early to help with the cleaning and set-up, and a team that stayed late to clean up and move everything out again. As part of the preparations Robert Pickell also went shopping for large quantities of non-food items such as soap, shampoo, paper towels, bath tissues, and light bulbs.
The food at Family Camp is always good. Food is a priority; and it is our number one expense. Our cook Elke Noll makes very detailed menus and plans for each meal. Before Camp started she spent a day shopping for food and placed a big food order with a delivery company. To give you an idea of the amount of food passing through our kitchen: 4,888 meals were served at Family Camp in 2010. Did you know that 2,160 eggs were cooked during that time?
The first week of camp in 2010 was led by Gregg Jones, who was assisted by Teresa Ferrete. The second week was led by Victor Servito, who was mentored by Gregg Noll. Both camp directors and their teams spent countless hours at meetings, on the phone, and writing emails to recruit people for key positions. They assigned people to all the different jobs that needed to be done at camp.
Gregg Noll was also the overall camp director. He spent many hours overseeing and coordinating all the efforts made by the people mentioned in this article. The role of the camp director can be compared to the role of a conductor: Camp is like an orchestra, and the camp program with schedules, roles, and activities is like a music score. The score stays the same each year, but the musicians—the people who play the parts—are different each year. The camp director, just like a conductor, has to make sure he has enough people to play the different parts, and he has to help them play their parts harmoniously and on time.
In the first week Matt Goldberg led the education team, assisted by Mary Holden and Annemarie Weinmann, who recruited and coordinated teachers. In the second week Crescentia Hinkle, mentored by Dorit Smith, led the education team and recruited teachers and group leaders before camp in time for the teachers to prepare their talks.
Our teachers prepare for their responsibilities and our kids both intellectually and with their hearts. Katya Nolan, Diane Abendroth, Matt Goldberg, and David Reed offered their talents for the first week. For the second week we had teachers co-teaching in every group and we had many young adults giving talks to the lectures groups. Mie Lipowcan, Stephanie Sanfrancesco, Justin Noll, Elizabeth Kernan, Dorit Smith, Lena Yasutake, Sally Sayre, Igraine Convery, Geoffrey Hinkle, Grace Ross, Oliver Noll, David Scarr, Tasnah Moyer, and Victor Servito all had wonderful and creative teams. And a special thanks to Jin Kwon Kim for facilitating the Divine Principle forum for young adults during that week.
Thanks also to all the people who organized and led arts and crafts: Mary Holden in the first week and Elizabeth Stewart in the second week planned the crafts and went shopping for the craft materials before camp. Thanks to Otmar Weinmann, who led the songs in the first week, and who hauled his own sound equipment to camp to make the singing sessions more dynamic.
For the weekend 2.5 event we had Michael Stewart as camp director. Many others chipped in to make this weekend event fun and meaningful.
Isn't it nice to be able to get into the pool on a hot summer day? The swimming pool at Shehaqua was open during free time, because we had volunteer lifeguards who submitted their lifeguard certification to the park rangers. Gregg Noll asked for volunteers in winter and early spring of 2010. As a result, Allastar Smith, Timo Townsend, and David Ching signed up for lifeguard courses in time to get certified before camp. Joelle Baer, who shared the lifeguard duties, already had a certificate. Nathaniel Ching took a CPR refresher course at the end of 2009 to renew his certificate to serve as lifeguard again in 2010. He also coordinated the lifeguard schedule.
Rob and Sally Sayre, who started Camp Shehaqua, still serve as senior advisors for camp. They help train some of the people that are new to leadership, and they give their input and support whenever needed. Every January Rob Sayre puts in the application with the State Park for renting Shehaqua and lets us know the result when the rangers make their decision at the beginning of March.
What motivates so many people every year to work behind the scenes to prepare for next year's camp? Sally Sayre addresses this in more detail in her article "Why Should I Bring My Young Family to Camp?" in this newsletter, but in a nutshell: We parents want to create an experience for our kids to have fun, be educated, and make friendships that last long beyond camp.
What is the secret for the longevity of Shehaqua Family Camp, which has been going strong for over 15 years? Each year we honestly evaluate what works and what does not. We have a culture of improvement and a commitment to learning. We ensure that all adults at camp have job responsibilities that allow every person to participate and contribute, even if they weren't part of the pre-camp preparations. At family camp, we really want every participant to feel that they are part of a big, loving family.
---
• Did you miss the first issue of Shehaqua Family News? You can read it on our website.
• We are looking for good photographs of nature around Shehaqua Family Camp to include in a slideshow for a future Shehaqua Family News. Please send your best shots to This email address is being protected from spambots. You need JavaScript enabled to view it..