The Shehaqua Family celebrated its 20th Anniversary in 2014. What started as a weekend camping trip by a few families in 1995 has slowly grown into a three-week program for large groups of families in rustic cabins in the Pocono Mountains of Pennsylvania, held every year in late July/early August. Over time, other programs have been added for fall, winter, and spring.
In 2014, the following programs took place:
SPRING:
Shehaqua Spring Gathering: May 16 – 18
The Spring Gathering was directed by Sun-Je Pearlman and Joe Hinkle. Participants had the opportunity to do whitewater rafting and paintballing. The program was attended by 88 people.
SUMMER:
Group leader training: July 18 – 20
Led by Igraine Convery and Brooke Abrahams
Shehaqua Family Camp Week 1: July 20 – 25
Directed by Sunkwon Bush. 82 people participated.
Shehaqua Family Camp Weekend 1.5: July 25 – 27
Directed by Danso Sawamukai. 112 people participated.
Shehaqua Family Camp Week 2: July 28 – August 2
Directed by Claude Aubert and Chris Bush. 120 people participated.
Shehaqua Family Camp Week 3: August 4 – 9
Directed by Jeanne Carroll. 62 people participated.
FALL:
Shehaqua Harvest Festival: September 19 – 21
Directed by Mike Diamond. 99 people participated
WINTER:
Winter Retreat: December 29 – January 1.
Directed by Kester Wilkening. 136 people participated.
Program Attendance
With the exception of the Winter Retreat—which was the largest one so far—the attendance numbers of all our programs has gone down in 2014. The Spring Gathering went from 116 in 2013 to 88 in 2014, and the Fall Festival from 158 people in 2013 to 99 people in 2014.
The overall attendance of the weeklong programs in Summer also went down, for the third year in a row. Not counting the participants of Weekend 1.5, we had 375 people attend the three weeks of Family Camp in 2012, 322 people in 2013, and 256 in 2014. The small number of attendance in Week 3 (62 participants) created organizational challenges that negatively affected the program. The director of that week concluded that it takes a minimum of 75 participants to ensure a smoothly operating program. We will try to fill three weeks of camp one more time this year (2015), but if we fall short, we probably will have to scale down to two weeks in summer for the next few years.
The figure below shows the number of Family Camp attendance, including week 1.5: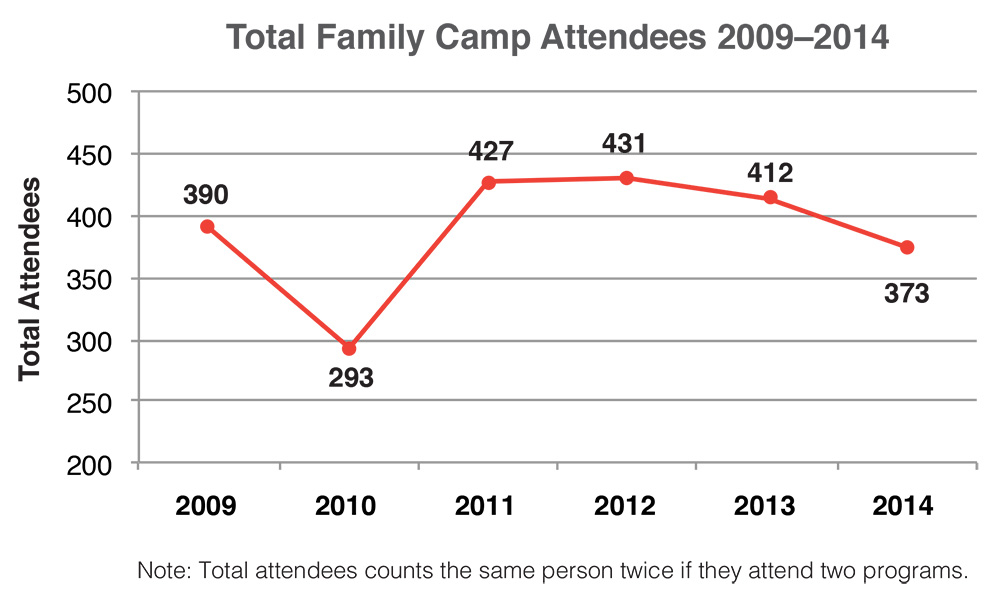 One reason for these declining attendance numbers might be the shifting demographics. A lot of the kids of the families that came to camp in the early days have now grown up, and their careers make it hard for them to come to camp.
But another reason is that a lot of families are not returning after attending camp for the first time. We tracked the numbers since 2009 (the chart is ignoring families who came to camp for the first time before 2009):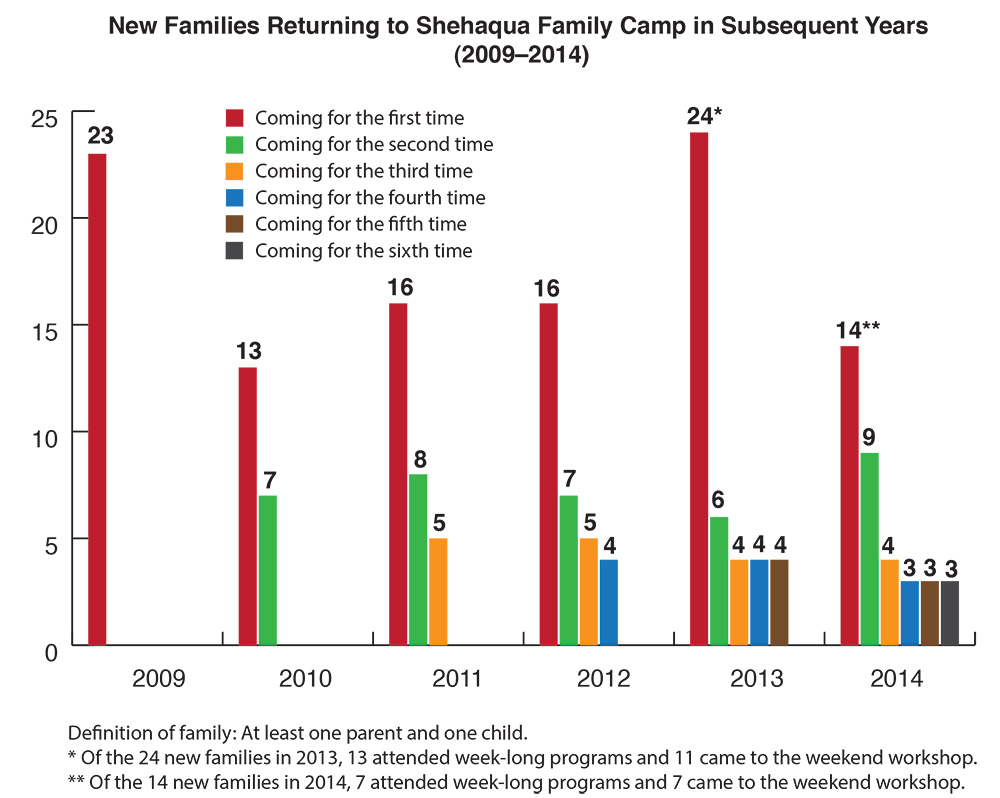 Election of 5 New Shehaqua Council Members
Members on the Shehaqua Council serve for two years. In Spring 2014, the following five Council members retired: Crescentia DeGoede (retired earlier in the year due to new job), Leighton DeGoede, Rob Sayre, Sally Sayre, Kester Wilkening
Two members ran for re-election: Claude Aubert, Haydee Ching. Five new people ran for election: Doug Ashley, Chris Bush, Sunkwon Bush, Jeanne Carroll, Sue Stoia.
Since the number of new candidates and members running for re-election was the same as the number of empty seats, all candidates were confirmed without an actual election.
Jeanne Carroll had to step down from the Council in Summer due to family reasons, which left the Council with 11 members.
Changes in Shehaqua Governance Structure
In September 2014 the Shehaqua Council voted to divide the position of Shehaqua Council Facilitator—at that time held by Gregg Noll—into two positions. The newly created position is that of an Operations Director, who will facilitate the Operations Team. This new circle brings together representatives of all 9 program and operational circles. The Shehaqua Council appointed Laurel Nakai to this new position.
Gregg Noll decided to step down from his position of Council Facilitator, and the Shehaqua Council elected Claude Aubert to be the new Council Facilitator.
More information about our programs can be found on our website, which was redesigned and reengineered by Nathaniel Ching in Spring 2014.
Submitted by Claude Aubert
February 22, 2015