Dear Shehaqua Family,
Spring is just around the corner, and, unseen to our eyes, the forces of nature are preparing for another season of growth, blooming, and producing fruits. A lot of growing and organizing is going on in our Shehaqua Family as this time as well, as we are getting ready for an exciting new year of camp programs. Last Sunday, the newly elected Shehaqua Council held its first conference call to prepare for its 2013 Spring Meeting in Philadelphia on March 16. We will send out a separate newsletter introducing the members of the new Shehaqua Council to you soon. You voted for our new mission statement, but the vote resulted in a 3-way tie. The final mission statement will be chosen at the Spring Meeting, and we will let you know the result afterwards. We are early waiting for the Hickory Run State Park rangers to let us know which dates they will allow us to use the Shehaqua campgrounds, and we will announce this year's Shehaqua Family Camp dates as soon as we find out about them.
Haydee Ching, our bookkeeper (she wears many other hats, too), has finished the financial report for 2012. In the first article you can read about it, and download some nicely formatted pie charts.
Remember the surveys we asked you to fill in last year? We have read all your answers, and we discussed and incorporated many of them into our planning for this year. In the second article Rob Sayre addresses some of the points that you commented on in the surveys, and he answers some other frequently asked questions.
2012 Financial Report by Our Bookkeeper
By Haydee Ching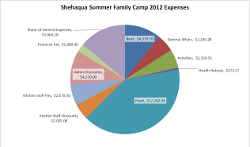 Here is the Shehaqua Family Financial Report for the last operational year (Feb. 1, 2012–Jan. 31, 2013). It shows the finances by event and separately states the general overall expenses.
Some explanations:
Activity expenses are expenses for the family fun night, crafts, sports, service project materials, teaching supplies, candles for candle light prayers, s'mores materials, candle making and pies plus watermelons for contests in the fall, etc.
General expenses are truck rentals and gas, paper towels, bathroom supplies, registration folders, light bulbs, supplies for fixing broken or missing things, etc.
Food includes kitchen supplies like pots, utensils, coffee maker, plates, napkins, etc.
Thanks to Nathaniel Ching who has made the report viewing easier by converting the data into pie charts.
You can download a PDF of the report here.
If you have questions or would like more details, please email me at This email address is being protected from spambots. You need JavaScript enabled to view it..
Haydee Ching, Shehaqua Family Bookkeeper
Shehaqua: Building and Creating a Community of Faith
By Rob Sayre
The "Shehaqua experience" started as both an experiment and commitment. The experiment was to learn how to educate our children in the basics of our faith. The commitment was to do this with volunteers and our own money. The result from both of these has been to build a living, evolving and very real community of faith. Transparency in how we handled money, our decision making and how we evaluate and learn have always been a central part of what we do and who we are.
We thought we would try to answer some questions that come up frequently which also highlight some of our core principles we use to operate and make decisions.
Click here to read the entire Q&A.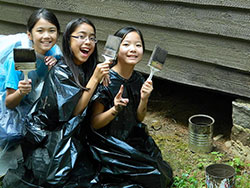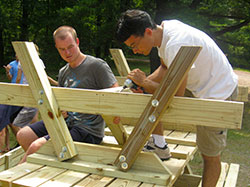 Last year's service projects included the construction of picnic tables and the painting of camp facilities.
Help Us Reduce Expenses, Save on Credit Card Fees
Did you know that credit card companies charges us approximately 3% of the amount of every transaction? In other words, if you pay $200 for a Shehaqua camp by credit card, they charge us $6 for this service. That quickly adds up. That's why our total credit card fee charges last year for all four Shehaqua programs amounted to $1,690! A staggering amount that we would like to bring down a lot, as it would help us to keep the camp fees low. But we can't do it without your help. We encourage you to pay for Shehaqua programs by check whenever you can. It's a bit less convenient than paying by credit card, but it really makes a difference. The address to mail the check is provided on the registration page and on the fees page.